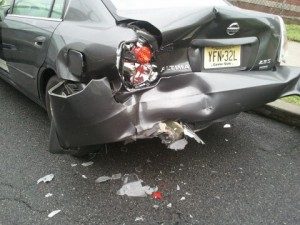 Larry M. Pollack, Esq. is a New Jersey car accident lawyer who has handled many injury cases arising from motor vehicle accidents. He has compiled the following overview concerning:
New Jersey Car Accident Fault
As with other types of accidents, figuring out who is at fault in a traffic accident is a matter of deciding who was negligent. In many cases, your instincts will tell you that a driver, cyclist or pedestrian acted carelessly, but you may not know what rule or rules that person has violated. Fault issues can be complicated, and an experienced New Jersey car accident attorney will look to a number of sources, such as police reports, state traffic laws and witnesses, to help you determine who was at fault for your accident. The law office of New Jersey auto accident lawyer Larry M. Pollack Esq. has private investigators standing by to seek out witnesses, take photographs, etc, and thereby help prove you are not at fault and are entitled to compensation.
Courts look to a number of factors in determining whether a driver was negligent. Some of these factors include, but are not limited to:
Disobeying traffic signs or signals;
Failing to signal while turning;
Driving above or below the posted speed limit;
Disregarding weather or traffic conditions;
Failing to drive on the right side of the road; and
Driving under the influence of drugs or alcohol.
Reckless Conduct in New Jersey
A driver may also be liable for an accident due to his or her intentional or reckless conduct. A driver who is reckless is one who drives unsafely, with "willful and wanton disregard" for the probability that such driving may cause an accident. A driver could be found reckless, for example, if he or she drives in a threatening or harassing manner out of "road rage" and causes an accident. (Criminal charges will also stem from such behavior). Road rage is defined as "an assault with a motor vehicle or other dangerous weapon by the operator or passenger(s) of another motor vehicle or an assault precipitated by an incident that occurred on a roadway."
Statistics compiled in 1997 by NHTSA and the American Automobile Association showed that almost 13,000 people had been injured or killed since 1990 in crashes caused by aggressive driving. According to a NHTSA survey, more than 60 percent of drivers consider unsafe driving by others, including speeding, a major personal threat to themselves and their families. About 30 percent of respondents said they felt their safety was threatened in the last month, while 67 percent felt this threat during the last year.
An experienced New Jersey car accident lawyer knows that traffic safety and law enforcement organizations are renewing efforts to identify and penalize aggressive drivers-those who speed, tailgate, zip from lane to lane, flash headlights in frustration and engage in other dangerous driving practices. The NHTSA defines aggressive driving as a progression of unlawful driving actions such as:
Speeding-exceeding the posted limit or driving too fast for conditions;
Improper or excessive lane changing;
Failing to signal intent;
Failing to see that movement can be made safely; or
Improper passing-failing to signal intent, using an emergency lane to pass, or passing on the shoulder.
Drunk Driving in New Jersey
Every 30 minutes, someone in this country dies in an alcohol-related crash. Last year alone, over one million people were injured in alcohol-related traffic crashes. In a lawsuit arising from a drunk driving accident, in addition to the intoxicated driver being held liable for the injuries he or she caused, a bar or social host may be liable for damages if he or she served an intoxicated guest, who then drove and caused an accident. In the New Jersey, the legal limit for DWI is .08% BAC (blood alcohol content), but even a lesser amount of alcohol in the blood can cause a driver to act irresponsibly, causing an accident.
The fact that the person who served the intoxicated driver alcohol may be held liable does not relieve the intoxicated driver of liability, however. An experienced New Jersey car accident lawyer is aware of the many laws governing legal responsibility and can help you identify who might be held responsible for your injuries, including people or businesses you may not have considered.
Accidents Not Caused by Drivers Involved
In certain cases, accidents are caused by factors unrelated to the conduct of any particular driver. For example, an automobile accident may occur due to a defect in someone's automobile. In such a case, an automobile manufacturer or supplier may be responsible for injuries caused by a defect in the automobile under the law of product liability. A product liability suit is a lawsuit brought against the seller of a product for selling a defective product that caused physical injury to a consumer or user. If a manufacturer of a product creates a defective product-either in designing, manufacturing, or labeling the product-the manufacturer is liable for any injuries the product causes, regardless of whether the manufacturer was negligent.
Another example of a situation where a driver may not be at fault for an accident is when a mechanic fails to properly repair a vehicle and the failure causes an accident. In such a case, the person who improperly repaired the automobile, and his employer, may be liable for the injuries sustained under the theory of negligence.
Other factors, such as poorly maintained roads and malfunctioning traffic control signals, can contribute to cause an accident as well. Improper design, maintenance, construction, signage, lighting or other highway defects, including poorly placed trees and utility poles, can also cause serious accidents. In cases such as this, government entities may be potential defendants. Special rules apply to claims and lawsuits brought against governmental bodies, however, and good legal advice is critical to preserving and winning such claims.
An experienced New Jersey car accident attorney is well-versed in all types of automotive and mechanic liability statues, and can help you determine liability in such cases.
The Lawsuit Threshold
In New Jersey, all highway motor vehicles must by law be insured. Private passenger automobiles must carry insurance with liability limits of at least $15,000/30,000, except for "basic" policies offering only $5,000 worth of coverage for property damage only, carried by individuals who are on Medicaid. When a car owner purchases insurance, he or she is given the "lawsuit threshold" by default (also known as the "verbal threshold"), unless the purchaser insists on obtaining insurance with a No Limitation threshold (also known as a "zero threshold"), which costs more. The Lawsuit Threshold limits the insured's ability to sue for pain and suffering damages after an auto accident. Up to 90% of New Jersey's insureds carry the lawsuit threshold, many or most completely unaware that they even have a choice.
Unfortunately, those with the Lawsuit Threshold will usually have a difficult time collecting pain and suffering money damages from the at fault car, for in most cases, the injured victim must show a significant permanent injury, as certified by a licensed physician. In almost every case, a savvy personal injury attorney will be necessary, if an individual with a Lawsuit Threshold is to collect any money for his/her injury. Furthermore, the Lawsuit Threshold does not apply to every kind of motor vehicle accident; therefore, for those who may have the Lawsuit Threshold listed on their insurance declaration sheet, it is particularly crucial to consult a qualified New Jersey personal injury attorney immediately following an auto accident.
A knowledgeable New Jersey car accident lawyer is your best resource when dealing with these types of cases. The probability of success diminishes significantly, however, the longer the accident victim waits to retain counsel.
About No-Fault (PIP) Insurance
No-fault medical coverage, also known as personal injury protection or "PIP" coverage, pays an auto accident victim's medical bills regardless of who is at fault for the accident. The law regarding this coverage is extremely complex and it is ABSOLUTELY ESSENTIAL that the victim retain a knowledgeable attorney to help guide him and make sure the medical bills from the accident get paid. In New Jersey, most automobile insurance policies provide up to $250,000 worth of medical expense coverage, subject to a standard $250 deductible and 20% co-pay for the first $5,000 (note that health insurance can sometime step in and pay these deductible amounts). In addition, the standard policy provides for replacement of certain lost wages, a $2,000 funeral benefit, a $10,000 death benefit, and a $10,000 medpay benefit for accidents that occur while the insured is in a vehicle other than an automobile (such as a tow truck).
However, due to recent changes in the law that allow insurers to offer less generous policies, many people have knowingly or unknowingly purchased auto insurance policies with much lower limits and higher deductibles, such as (for example) a $15,000 limit with a $2500 deductible–or have deleted medical coverage from their policies altogether. Some policyholders may have foolishly chosen to rely on their own private health insurance, another option offered now by auto insurers.
These choices may all apply to family members and even to the passengers in the insured automobile. Plus, the availability of coverage may depend on the type of vehicle involved in the accident, and whether the accident occurred during work. To understand how one's medical expenses are going to be paid, it is obviously crucial to consult a qualified, experienced auto accident attorney, such as Larry M. Pollack Esq. Larry is familiar with these complex insurance coverage issues and the ever changing laws and cases that govern them. Larry Pollack has a proven track record of successfully taking on the auto insurance companies through PIP lawsuits and PIP arbitration, and forcing them to pay medical bills.
Conclusion
In all of the above cases, it is essential that accident victims take prompt measures to preserve evidence, investigate the accident in question and have physicians or other expert witnesses thoroughly evaluate any injuries.
If you have been a victim of an automobile accident, do not hesitate to call upon personal injury attorneys who are skilled and experienced in motor vehicle accident cases to assess your situation and determine the best methods for you to obtain any compensation available for the damages you suffered.
If you or a loved one was injured in a car accident, contact New Jersey car accident attorney Larry M. Pollack, Esq. right away for a free initial consultation.